Organisational Setup
List of Registrar of Cooperative Societies

Co-operation Department is listed as one of the Administrative Departments under the Government of Meghalaya. Being an Administrative Department, it is responsible for policy decisions, sanctions, and administrative directions in respect of subjects listed out for the Department of Cooperation. The Office of the Registrar of Co-operative Societies is a Directorate under the Department. The departments works under the overall guidance and direction of Minister of Cooperation. Administratively, the Commissioner and Secretary presently head the Department and its Structural Organisation is as below:
State Level (Secretariat)
Directorate Level (Registrar of Co-Operative Societies)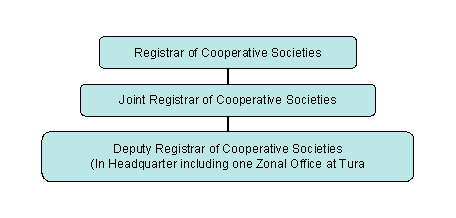 Other Subordinate Officers in the Rank of A.R.C.S. (Assistant Registrar of Cooperative Societies), S.R.C.S. (Sub Registrar of Cooperative Societies), S.C.Os (Senior Cooperative officers) and Office having Senior Superintendent and other Assistants at the Headquarter and in Zonal Offices at Tura.
A.R.C.S. in Seven Districts and three S.R.C.S. in three Sub-Divisions have their own offices.
District Level
In each of the seven district (namely in Jaintia Hills, East Khasi Hills, West Khasi Hills, Ri-Bhoi, East Garo Hills, West Garo Hills and South Garo Hills) the department has an Office of the Assistant Registrar of Cooperative Societies. These offices have Subordinate Officers and staff.
Sub Divisional Level
The Department also has offices of the Sub-Registrar of Cooperative Societies in 3. The three Sub-Divisions at (1) Amlarem (2) Sohra (3) Mawkyrwat.